Being active on social media is key to growing your business. So often businesses don't stick to consistent branding on social media and the content they spent hours creating goes unnoticed.
Creating engaging, share-worthly, and on brand graphics can be time consuming.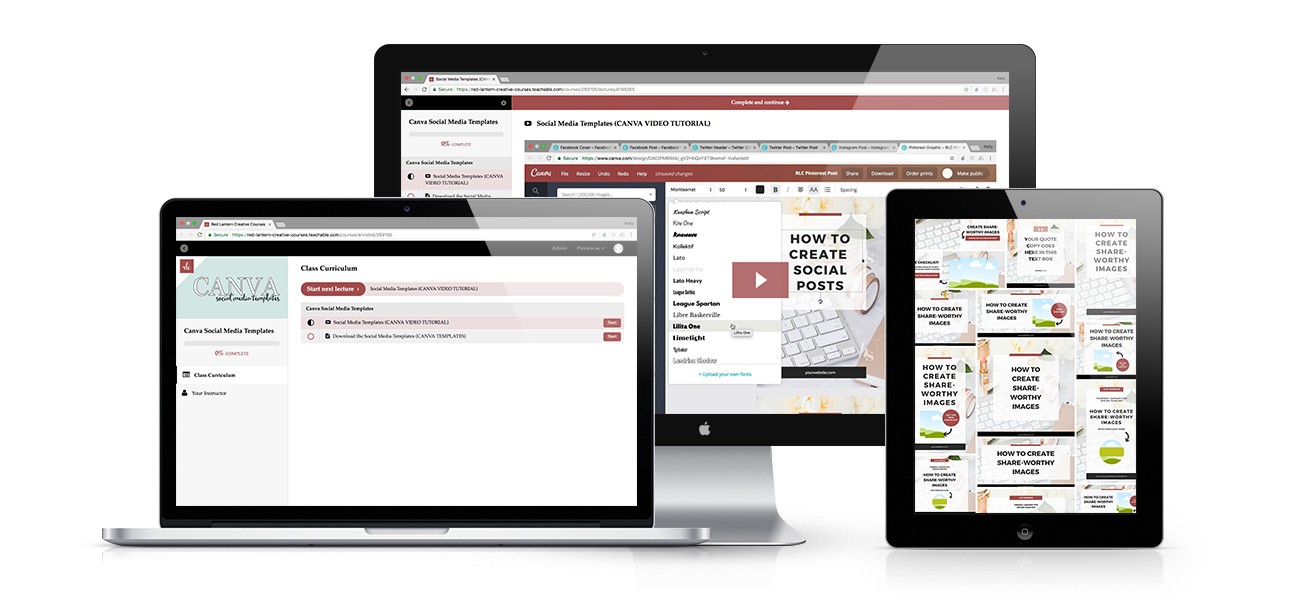 Introducing Canva Social Media Templates

Canva Social Media Templates are a collection of 15 of the most popular types of social media graphics expertly designed to get your content noticed and keep you on brand.
Don't waste your time downloading and trying to learn expensive software to create your graphics. Stop trying to remember the image sizes for all the different social media platforms. And stop creating graphics that don't match your brands style.
The best part is all of the templates are created in Canva! Canva is a free, easy-to-use photo editor that you can use to create basically any image for the web.
Why do you need social media graphics?
REASON 1 | Visuals Are More Attention Grabbing and Memorable Than Text Alone

This concept has been around since the beginning of advertising. And if you're a visual learner this is nothing new to you. A visual representation tells a better story and can play to the viewers' emotions. We have a shorter attention span and respond better to short and concise messages. Hence the twitter character limit. It's easier for us to remember a visual post that caught our quick eye.
REASON 2 | People Are More Compelled to Take Action With a Visual
Fact:
"Visual content is more than 40X more likely to get shared on social media than other types of content." (Source)
Visual content can be anything from a blog post graphic to a picture of your workspace. Get creative. Take pictures of your products or your day-to-day life to get followers to connect with your business on a personal level. The more they feel a personal connection with your business the more likely they are to become customers.
REASON 3 | Useful Graphics Get More Shares Than Text

Quotes are very popular for likes and shares because they express emotion. To run a successful business you need to stay motivated. Quotes are a great way for businesses to spread positivity and motivation and connect with their customers.
REASON 4 | To Attract Readers and Grow Your Email List
To run a successful online business you need to attract potential clients to your website. Blogging is a great way to drive traffic and grow an email list. But to get your content noticed your social graphics need to stand out.
Creating visuals for your blog posts will instantly drive traffic to your website. If you want to see higher conversions on your social media posts offer a content upgrade. A content upgrade is an extension of a blog post. Bloggers add downloadable content into their posts as further reading on a particular topic. An example of a content upgrade is a guide, cheatsheet, worksheet, or tutorial! This marketing technique is used to grow a following and an email list. In order for your content upgrade to pull in real leads and sales you need to show a visual of your it on social media. Just saying you have a "guide" is not enough. The visual is the selling/conversion point.

REASON 5 | Graphics Help You Build Brand Awareness
When graphics are used consistently over several social media platforms people will start to recognize your brand. In a high-saturated business market your brand needs to stand out from the rest. Do this by staying true and consistent with your branding. Take a look at the businesses thriving on Pinterest. All of their pins look the same. Consistency is key.
REASON 6 | Graphics Strengthen Brands

Good, clean visuals heighten your company's status in the eyes of the customer. They make your business look professional. You do that by choosing images that attract your target market. My advice is to invest in high quality imagery from sites like Haute Stock, or Adobe Stock for your social media images.
Templates will make creating social graphics easy
Creating on brand social media graphics can be difficult if you're not a designer. They are time consuming and it can be frustrating having to create something for every social media platform.
Who has the time to learn all the different social media post sizes. After all you are trying to run a business, your family, and your life.
After spending hours thinking about what you want to share, writing blog posts, and creating content upgrades to attract your ideal clients you're still not done. You need to create share-worthy social posts to get your content shared.
Don't waste time learning Photoshop or with stock Canva templates. After all the work you've done you deserve an easier path.
With the Canva Social Media Templates creating share-worthy graphics for all your social media posts can me done in minutes.
The Canva Social Media Templates are expertly designed to get you the most shares, likes, and conversions.
The best part the templates are completely customizable. So you can upload your own fonts, colors, and images, and be ready to share your posts quickly!
Here's what's included:
15 of the most popular social media graphics:
1. Facebook Cover
2. Facebook Post

3. Facebook Post with Content Upgrade
4. Facebook Post with Webinar
5. Twitter Cover
6. Twitter Post
7. Twitter Post with Content Upgrade
8. Twitter Post with Webinar
9. Instaram Post
10. Instagram Post with Content Upgrade
11. Instagram Post with Webinar
12. Instagram Quote
13. Pinterest Post
14. Pinterest Post with Content Upgrade
15. Pinterest Post with Webinar
Course Curriculum
Canva Social Media Templates
Available in days
days after you enroll
A bit about me
My name is Kelly Conti.
I'm a graphic designer and founder of Red Lantern Creative.
I've been running my own business for over 8 years and have worked with small entrepreneurs to fortune 500 companies on their branding and digital assets.
When first starting out I too had trouble driving potential clients to my website and growing a following on social media. It wasn't until I started blogging and creating share-worthy graphics that I saw an astonishing growth in my traffic and email list subscribers.
The growth was great but the time I spent thinking about content, writing blog posts, creating content upgrades and designing my social graphics in Photoshop was keeping me up until the early morning hours weekly.
Then I found Canva! I created templates for my business and now instead of taking hours to create my social media graphics it takes MINUTES!
I created the templates so I could share my knowledge and expertise with creative and driven entrepreneurs like yourself who want to create professional looking social media graphics.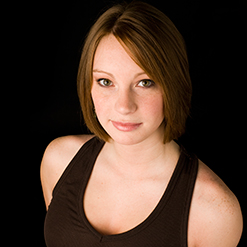 "Creating my social media graphics could not be easier thanks to Kelly. I was using Canva templates that didn't match my brand. Kelly's templates are so easy to use and customize. I wish I found her templates sooner!"
- Kimberly Villa, The Workshop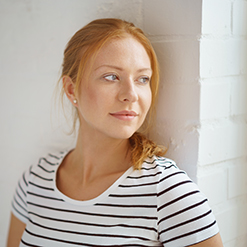 "Creating my social media templates was so time consuming and I never felt like they looked professional. Kelly's templates have sped up my process. Plus my shares and likes have increased dramatically!"
- Julie Peterson, Knots & Jewels
These templates are for you if ...


You want to save time on creating social graphics

You want to customize your social posts to match your brand

You want to be able to create share-worthy graphics in Canva for free

You're tired of scouring the internet for social media image sizes
Frequently Asked Questions
How long do I have access to the templates?
How does lifetime access sound? After purchasing the templates, you have unlimited access to them for as long as you like - across any and all devices you own.
What if I am unhappy with the templates?
We would never want you to be unhappy! If you are unsatisfied with your purchase, contact us in the first 30 days and we will give you a full refund.
Do I need to know how to use Canva before purchasing the templates?
No. The video tutorial walks you through how to work in Canva and edit the templates.
Can I customize the templates to match my brand?
Yes! The templates were created for you to customize. You can easily add your brand colors, fonts, and images. *Note: Although the free Canva account has a bunch of fonts they may not have your font. You may need to purchase Canva for Work to add your font.
Is the photo in the images licensed to use?
No. The styled stock photo in the templates is from Haute Stock. The image is only a placeholder and cannot be used without a license.
Can the templates work in other software?
No. The templates are designed to work in Canva only. They cannot be opened in any other software. You will need to create a FREE Canva account in order to edit the templates.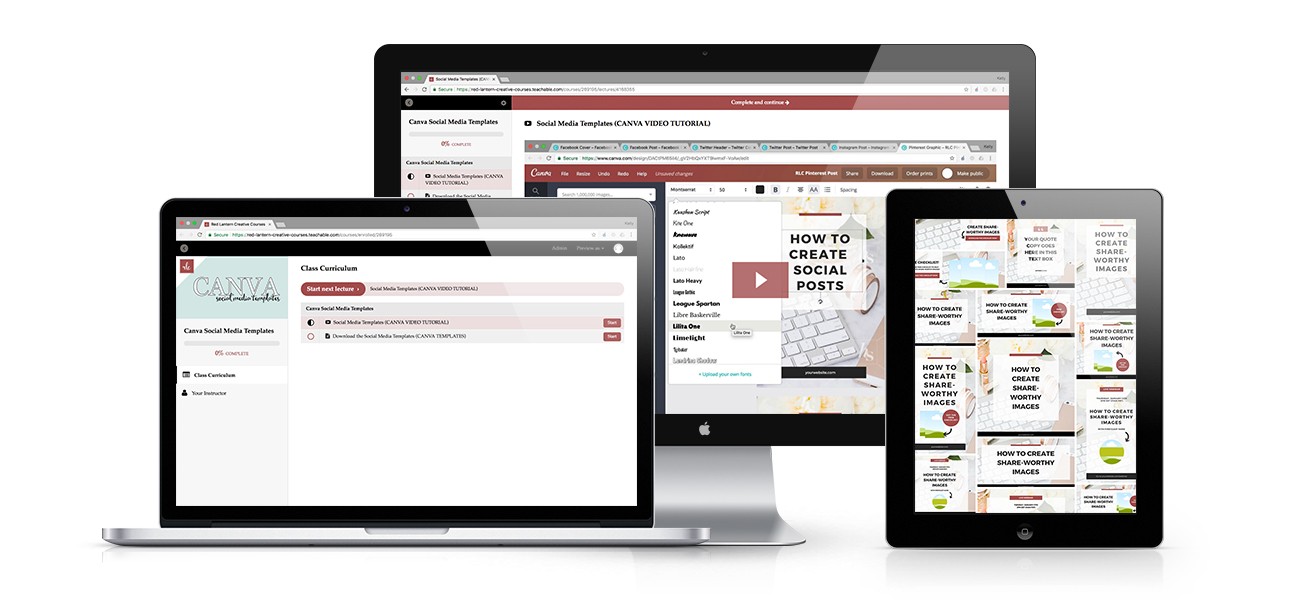 If you're ready to create professional social media graphics and get your content noticed there's no better time then now!

Create engaging, share-worthly, and on brand graphics!